R7 Series Illuminated, Sealed Rocker Switch
The R7 Series illuminated, sealed rocker switch offers many features and is one of the most customizable rocker switches available at E-switch. There are many actuator styles to choose from (you can order them separately here) and many LED rocker switch illumination options as well, including dual LED illumination in multiple colors for these custom rocker switches. The R7 Series sealed rocker switch is made for harsh environments and has a sleek, ergonomic actuator design. It is UL listed and rated to IP67 standards for total protection from dust and immersion up to 1 meter deep for 30 minutes. It offers single- or double-pole circuits with up to three actuator positions. You also have your choice of termination options: solder, quick connect, or screw. Applications for this illuminated, sealed rocker switch include:
Marine
Construction equipment
Agricultural equipment
Recreational vehicles
Landscaping equipment
Industrial equipment
PLEASE NOTE: You can create a part number for JUST the switch body, or both the switch body and actuator, on the configurator tab on this page. Read the options carefully on the configurator (if you want the actuator along with the switch body). If you want them both, select an option from every category.
FEATURES
IP67 rated dust and moisture protection and UL power rated
LED illumination options
Custom actuator marking available
Ergonomic design
R7 Series Illuminated, Sealed Rocker Switch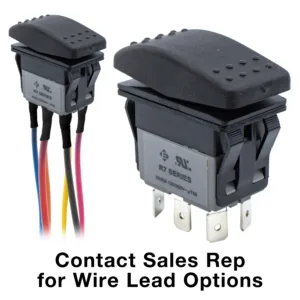 Industry Utilization: